We arrived back in Turkey on April 4th, flying from West Palm, Florida to Atlanta, and then on to Paris and Istanbul.  After a night at the airport hotel in Istanbul we took the morning flight to Antalya and then were picked up by a driver for the 3.5 hour trip to Kaş Marina.   We spent the first night in a small hotel in Kaş (Hotel Kekova), but then immediately moved onto the boat even though it was on the hard.  It was kind of noisy in the hotel with lots of dogs barking and the room smelled like cigarettes, so we decided that it was preferable to sleep on the boat even if it meant climbing up a ladder to get onboard and having no water or toilet facilities for the few days before we got put back into the water.   Our friends Melinda and Dave on the boat Sassoon and Jill and John on the boat Petronella were also in the boatyard as well, having arrived a month before us with a full list of boat projects to do.  
 We were very efficient at getting the boat in proper order in just a few days and on the 9th of April we were put back in the water and we tied up at our spot on the dock.   It was a bit crazy as we had to leave on the 10th and retrace our steps back to Istanbul in order to catch a flight to Tel Aviv. (It took 12 hours portal to portal, even though it is just 2 hours away by air if we could only fly there directly from Kaş) We spent a week with my sister Diane and her family in Jerusalem along with my mom and sister Cathy who had both flown in for an extended visit.  We had a wonderful visit and enjoyed a very special holiday with our family.
 We returned to the boat on the 18th of April and then worked on the boat for the next 5 days before heading out once again for a big land based tour to Capadoccia.  It was a 6 day tour, organized by Gwen, a woman sailor in Marmaris who has been arranging tours for sailors for the past 10 years or maybe more.  We took a local bus to Fethiye the night before the tour began, as the tour bus could not come down to Kaş to pick us up.  In Fethiye we stayed at a darling little hotel "Villa Daffodil" and then met up with some very good friends that we had not seen since last year… Rick and Robin from "Endangered Species", Lynn and Dick from "Wind Pony" and Frank and Barbara from "Destiny".  Lynn and Dick just arrived from Thailand and are awaiting their boat that is coming on the Sevenstar freighter, and the other boats arrived here last year on freighters just as we did  (after sailing from the U.S. to Thailand like we did).   
 Our tour to Capadoccia was led by an experienced guide named Tas (Burhan Tas) and a young, but very competent driver named Emrah .  Our group had 6 couples, including 2 sets of Dutch, 2 sets of Brits and 2 sets of Americans.  It was a really great group of people… all very low key and friendly and fun.   The highlight of the trip was the time spend in Capadoccia viewing the incredible caves and towers and incredible rock structures.  We did a pre-dawn hot air balloon trip (along with hundreds of other tourists on the 100 hot air balloons that are currently licensed there). It was incredibly beautiful and well worth it.  The pictures show how beautiful it was.
 The trip involved a lot of driving (more than 2,200 km over the 6 days) in our little tour-bus, but it was well planned out with lots of interesting stops both coming and going to Capadoccia.    The only part of the whole tour that we did not like was the night out at a venue promoted as "Turkish Night".  We were herded into a room along with hundreds of other tourists, fed very mediocre food, all the bad liquor we could drink, and then had to watch an extremely unprofessional group of dancers. The advertised "whirling dervishes" just walked around in a circle in the dark for 5 minutes, nodding to each other (and grimacing) and then they whirled half-heartedly for about 1 minute.   After that they did an assortment of other dances, but it was a bit like watching a bad high school talent show.  A group of women danced, and eventually some belly dancing was done.  Our group actually walked out before the night had ended, which I think may have embarrassed our tour guide, but we were all in agreement that it was just too painful to sit there any more than the 2.5 hours we had already been there; particularly since we had all been up since 4 a.m. for the balloon ride.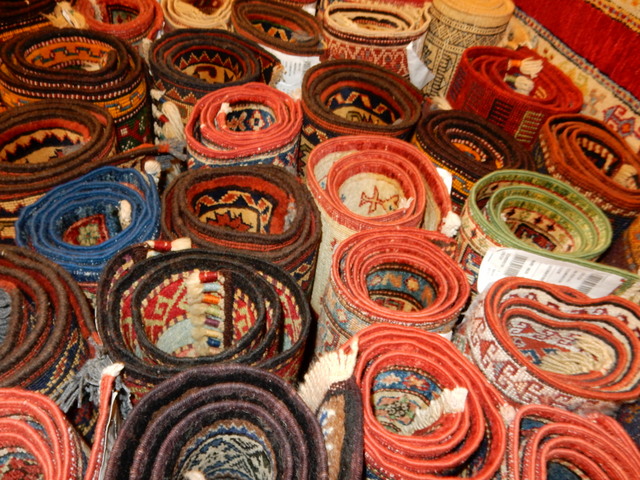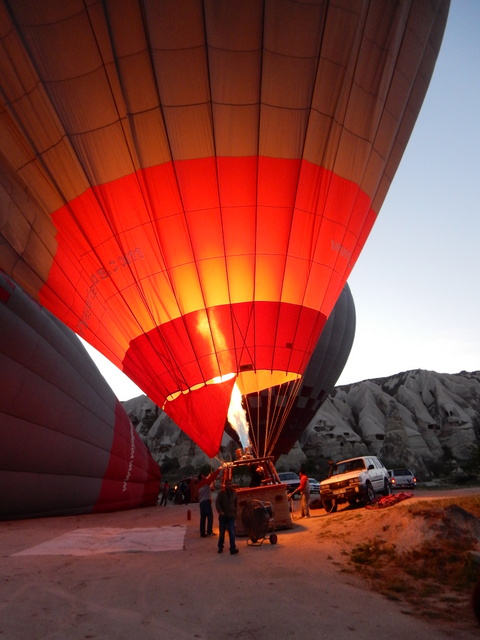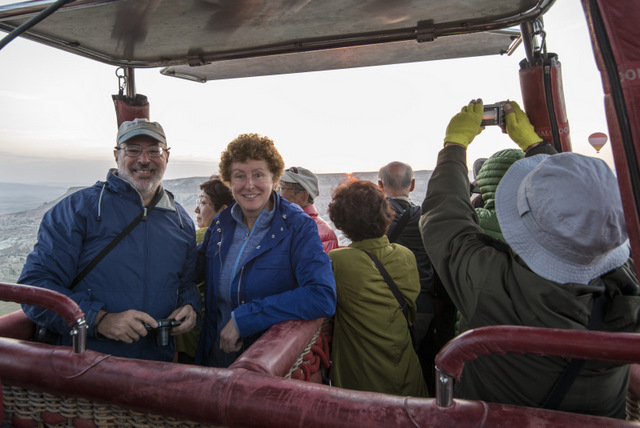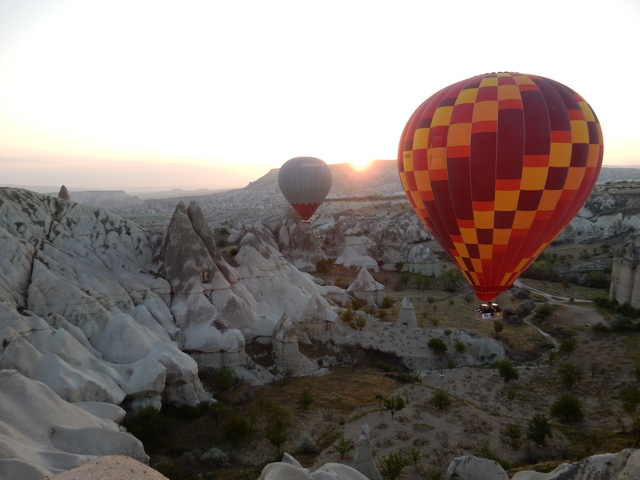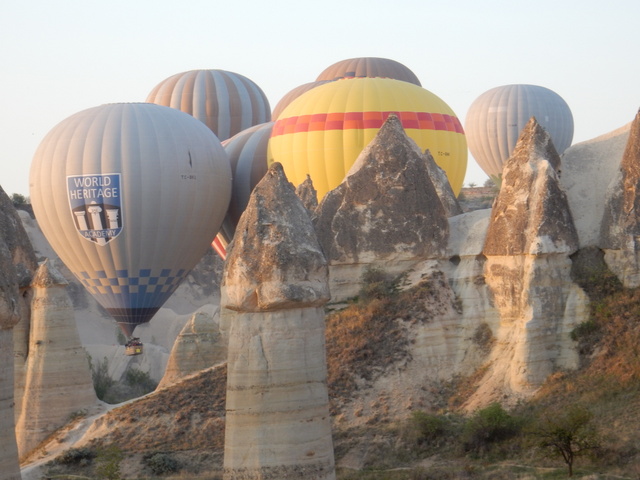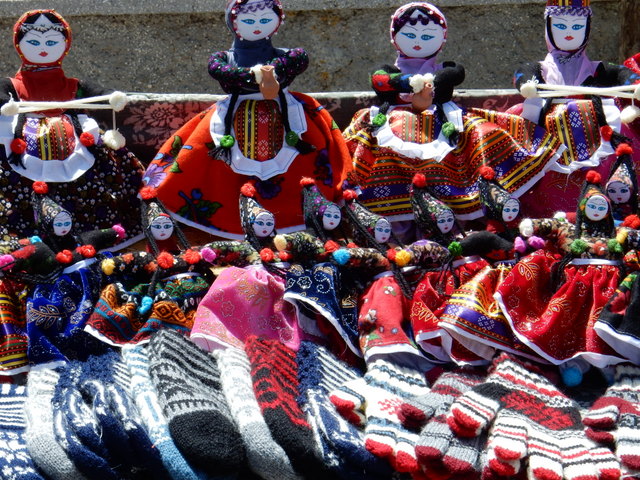 Other things we did on the trip are listed below just as a record for ourselves:Â Â 
 Our fellow travelers included: 
Ian & Glenda on Lucy Alice (British)
Piet and Viets on Tringus (Dutch)
Keith and Clair on Panulirus (British)
Johannes and Eli on Boemerang  (Dutch)
Dan and Chris on Interlude (American)
 Day 1 :  Picked up at Hotel Villa Daffodil in Fethiye at 9:30.  Everyone else already on board. Most everyone boarded in Marmaris, except Chris and Dan who got picked up in Göcek.
 Lunchstop near Sagalassos in the neighborhood of Isparta, where we looked at the old theatre and library. Had a bit of a hike to view the ruins
Stayed in a hotel at Egirdir on an island in a lake. Mediocre hotel, but beautiful view of the water.
 Day 2: 9.00  beautiful drive  around the lake in the direction of Konya (240 km). Visit to a 900 year old wooden mosque and tour of the mosque with the imam.
Just before Konya the bus had a flat tire. The guys all pitched in to help change it.
Lunch in little private room in a restaurant with seating on the floor or on low couches. Delicious lamb, lentil soup, salads and dessert. Visited the Mevlana museum,the home of the original mystical whirling dervishes.
16.00 250 km to Nevsehir (Cappadocia)
19.45 Avrasya hotel in Avanos. Big rooms, good food and we stayed there for 3 nights.
 Day 3: New tires arrive from Izmir for the bus.
9.00 Soganli Valley, canyon with fairy chimneys and rock churches. Visit to Dirinkuyu, an underground city, 11 floors down built into the rocks.
Stops at several beautiful viewing places.
Visit to a carpet weaving cooperative.
 Day 4: Very early balloon flight! Amazingly beautiful.  Our balloon operator was very professional and clearly very experienced.  He estimated that he had over 1,000 flights.
Went to Goreme open air museum with rock churches. (a bit too full of tourists)
Lunch at Uranos restaurant (underground).
Avanos Pottery demonstration. Terrific demonstration by a professional potter.  I get chosen to try the wheel.
Trip to Imagination Valley, another beautiful view.
 16.00 back at the hotel. In the evening a Turkish night with food and dancers.
 Day 5: Day of travelling. Goreme to Konya. Lunch stop in the woods. (Taurus Mountains)
Long cave walk that lead to a very deep cavern with water.
18.30Â  Suite Hotel Laguna in Antalya in the center of the town. Nice dinner buffet.
 Day 6: a walk through the old city of Antalya.
Visit to Duden Waterfall and trout lunch.
We leave the group and take the public bus to Kaş. Fun bus ride with wifi,  a steward serving cake and Coke, and movie screens in front of each seat.  Beautiful views most of the ride home.
 L.