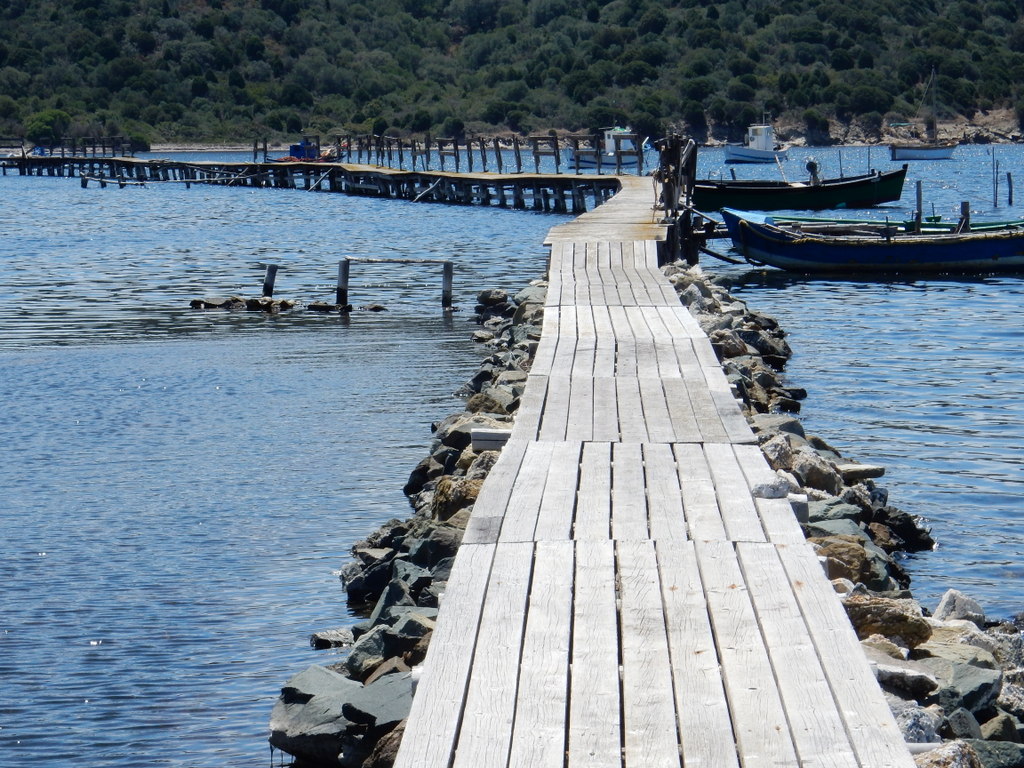 We left Carloforte on June 16 in the company of "Vera." The intent is to spend 4 to 6 weeks circumnavigating Sardinia while exploring its many bays. Our first stop was Malfatano on the southern coast (arriving Thursday, June 16). There is no town at Malfatano, only a small beach restaurant that also rents beach chairs, places for camper vans, and small boats. One has to travel down a dirt road to reach the beach and restaurant. Our first night at anchor was very rolly as the small bay is open to the south, but things were much more comfortable after that.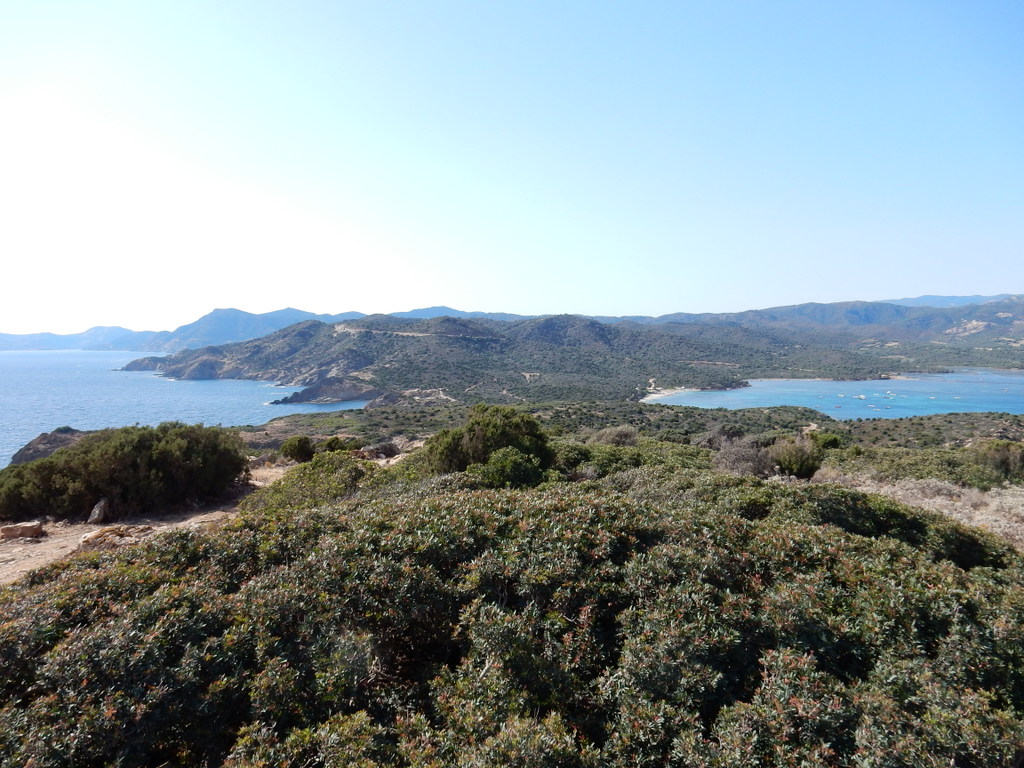 After three nights in Malfatano, we had to sail to the provincial capital of Cagliari for our appointment with the immigration police. We had a reservation at the Marina del Sole in Cagliari for two nights. Other marinas in Cagliari quoted me prices that were from two to three times as high as the Marina del Sole, which had a reputation of being somewhat rundown but friendly and well located. Sailing on a fixed schedule is always something we try to avoid, a view that was reinforced during our 50 mile sail from Malfatano to Cagliari on Sunday, June 19th. The weather forecast called for rain and possible squalls and strong wind, but we had to be in Cagliari Sunday evening to be in time for our Monday morning appointment with the immigration authorities. We had a great sail with some rain showers for the first two-third of the trip but as we approached the large Gulf of Cagliari we saw a huge bank of storm clouds coming towards us. We got heavy rain, poor visibility, lightening, and winds to 42 knots. We cautiously continued on our way to Cagliari with just a tiny amount of sail up but we did not dare enter into the breakwater in these conditions. I would not be able to back into a berth and Med moor in these winds. Suddenly, there was a break in the weather and we scooted in and berthed. Five minutes later, heavy squalls resumed for the rest of the afternoon.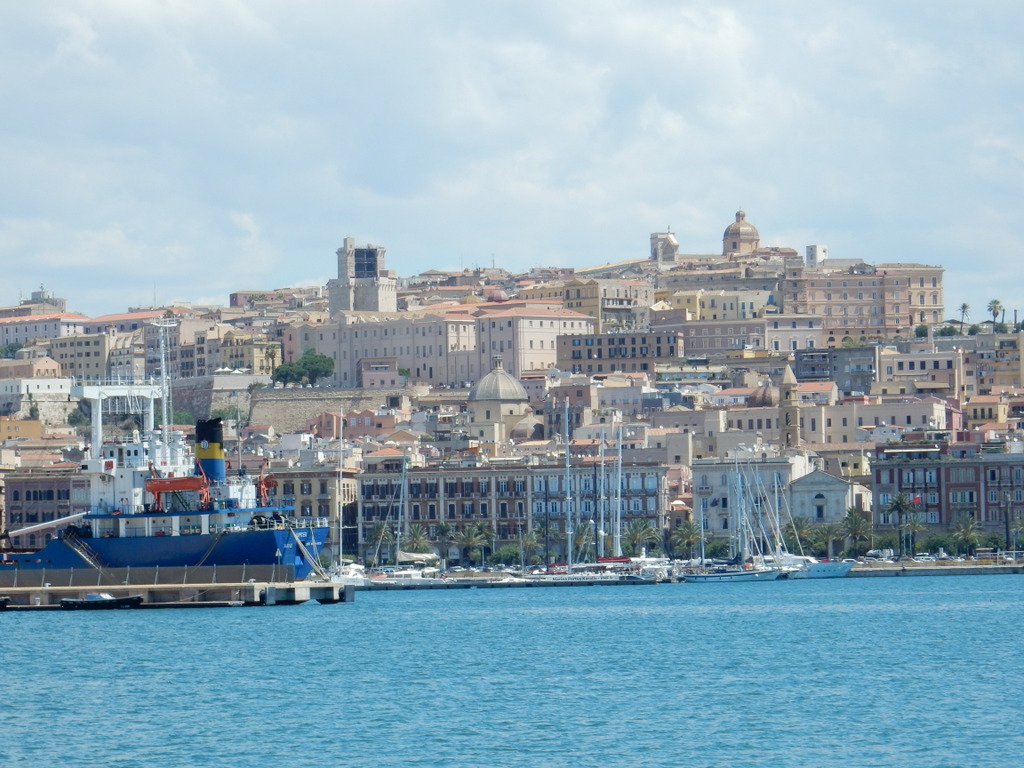 In the evening, we headed out of the marina looking for a restaurant. To our surprise, at least half of the restaurants we passed were either all-you-can-eat sushi or "Asian" all-you-can-eat. It was certainly easier to find Asian restaurants than Italian. We walked until we found a cute hole-in-the-wall fresh seafood place ("Frito Mania") with only counter service and a couple of plastic tables and chairs on the sidewalk.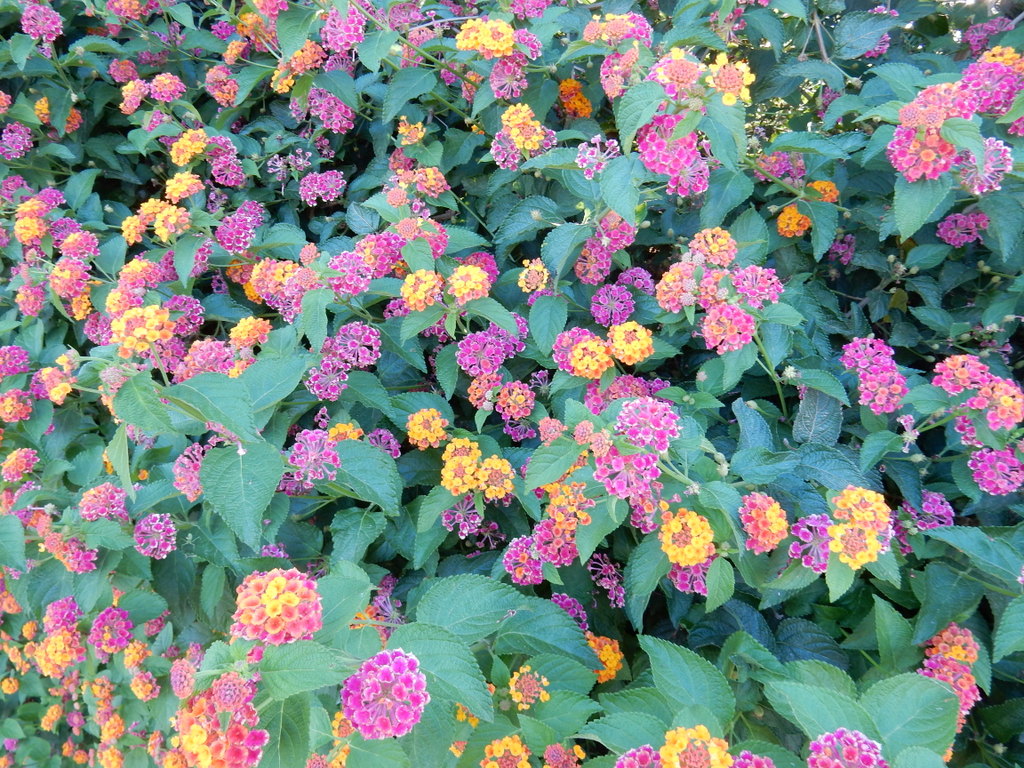 Monday morning we took a taxi from the marina to the office of the immigration police. We had an appointment for 9:50 am but we arrived at 9:00 am just in case. Outside the door of the immigration police there was a crowd of 60 or so people waiting. About half were African and most of the rest Middle Eastern or South Asian, all clutching forms filled out in Italian. The door opened and an Italian official called out names one at a time. You showed him some identify document, received a piece of paper with a number, and were allowed inside. Laura Pitt was about the tenth person called, followed by Mark Pitt and Brad Pitt. The immigration officer was making a joke although no one in this crowd laughed. Their business was certainly more urgent that ours and many probably arrived in a very different type of boat than we did.
The appointment time meant nothing. Everyone admitted inside pushed up against the counter trying to get the attention of an immigration agent…waving their forms and passports. More than once an agent came out from behind the thick glass security partition with small "talking holes", like in a bank, to get the crowd to move back. The process was tediously slow. Small children ran around playing while their nervous parents talked with others or with the paid or volunteer agents who came to assist them, mothers nursed their babies, single men talked to countrymen in their local language or stared at their mobile phones. A fingerprint technician called out numbers in Italian which often led to no response from the crowd as they did not know Italian. Someone who did would try to find the missing person by checking the numbers in the hands of those waiting.
Just after noon, Laura was called. We expected an immigration interview, but there was none of that. The immigration policeman simply stapled together her photo to pages from Laura's request for residency that we had sent to Rome two weeks earlier, while Laura watched. He entered things from the form on a computer screen. Then he took an index fingerprint from each hand using a 3M optical scanner, and told her to come back on June 30th for full hand fingerprints. They were doing full hand fingerprints of others right then but he said that there was a separate queue for the fingerprints and the first opening was June 30th. And even then, we would not have our residency permit. Then it was my turn. For some reason, the computer in Rome would not accept the data that the immigration agent had entered. He swore at the computer (all in Italian, of course) and pounded on the keyboard to no avail. He told me to wait until the computer in Rome accepted my form, and he started to process the next applicant.
I waited and waited but the computer glitch persisted. Laura needed to use the women's bathroom but it was not in working order. Finally, the agent said he would call Rome. He went into the back and emerged some minutes later and was able to get me processed. By then it was close to 1 pm and the waiting room was almost empty and their operation would cease for the day.
We walked to the nearest main street and hopped the first bus heading in the direction of the waterfront. We got off right in front of an all you can eat sushi restaurant. We ran in to use the bathroom and then remained for a very good lunch at a very good price. Walking around town and riding in the public bus we noticed that there was a considerable number of people of Asian descent who were obviously not tourists, which helps explain the number of Asian restaurants. We had seen none in Sicily.
We sailed back to Malfatano in benign conditions the next day (Tuesday, July 21) and finally crossed paths with our friends Dick and Lynn Bisanz from St. Paul, Minnesota on their catamaran "Wind Pony." We missed seeing then in Sicily but we kept exchanging emails as to our respective whereabouts. We had three nice days with them and their sailing mates from New Zealand on "Dol'Selene". They are now in Minorca on their way to Gibraltar, the Canaries, and across the Atlantic. Then our Aussie friends Melinda and Dave from "Sassoon" arrived by design as well. We met them first in Malaysia and then spent two years with them at the Kas Marina in Turkey. They are also on their way to cross the Atlantic.
From Malfatano, we sailed with "Vera" to Pula on the southeast coast of Sardinia. The Vera's left after one day but we remained in Pula for two more nights as it was close to Cagliari where we needed to get our full hand fingerprints done. We hoped to leave the boat at anchor in Pula and take a bus to Cagliari but the weather forecast suggested that would be risky for the boat. So on June 29th we sailed back to the Marina del Sole in Cagliari and the next morning waited in the same room at the immigration police office until we were called for fingerprinting. We recognized and greeted some of the people waiting.  We waited for two hours until our number was finally called.
After another sushi lunch, we provisioned the boat at the very nice "Nonna Isa" supermarket, which delivers to yachts, and gave her a good wash. We left for Villasimius in the Gulf of Carbonara yesterday (Friday, July 1) to rejoin "Vera" who had been anchored there since they left us in Pula. We expected 7 knots from the southeast but 5 miles out we here hit with easterlies of up to 25 knots. That made for a long slog tacking upwind which was actually a nice, exciting sail as we were in no rush. Now we are just anchored out on the west side of Cape Carbonara but will switch to the east side later today when the wind shifts west. The boat is full of fruit, veggies, cheese, drinks, and chicken, plus a varieties of treats, plus we got rid of all the garbage we were accumulating. Stopping in a big town like Cagliari has its advantages as long as you do not fall through a hole in the dock.
M.