We are back in Rhode Island 12 and a half years after departing on our circumnavigation. We dropped anchor outside of Bissel Cove in dense fog at around 2 am on June 21st after a 10 and one-half day passage from Sint Maarten. After a quick bite to eat, the crew of Sabbatical III slept for a few hours and in the morning motored the 2 miles to the Wickford Cove Marina. Laura knew that our son Ben would be waiting at the dock at 9 am but they conspired to make it a surprise. As we approached the "A" dock in the narrow channel, I saw a guy waving vigorously. I presumed he was a marina employee indicating which berth I was to dock in. It wasn't until I was right up to the berth that I saw that it was Ben. What a wonderful surprise.
Passage from Sint Maarten
We had waited patiently for 8 days after our crew arrived in Sint Maarten for a forecast that predicted enough wind to sail at least halfway to Rhode Island. For the previous weeks the wind forecasts had been dismal. We were more than ready to go. Sabbatical III was the only boat departing Simpson Bay Lagoon at the 10:30 am bridge opening on June 10. The first 24 hours of sailing was almost perfect with consistent winds and light seas. We were still in the trade wind belt so this was expected. We headed west of the rhumb line as more wind was forecast to our west. The seas stayed slight and wind speed fell but we still proceeded under sail alone. A "rogue" large wave rolled the boat badly on the second night, making the genoa collapse and then refill with a bang, knocking the wind instrument at the masthead out of commission for a few minutes. We had intermittent problems with the wind direction indicator for the next week until it finally failed altogether while Sabbatical III was knocked around in the Gulf Stream. (I have had it replaced here in Rhode Island.)
After a few days, the winds were too light to keep our speed reasonable so we began motorsailing. The motor, run at low RPM, in combination with our full set of sails got our speed back up to 6 knots and saved fuel. Some days we had to rely only on the engine, other days it was a mix of sailing, motor sailing, and motoring. We used about 400 liters of diesel fuel out of the 840 liters (600 in the tank and 240 in jerrycans) that we departed with. Those extra five jerrycans that I bought were not needed and will probably never be used. Oh well, they were insurance.
Using our sat phone, we downloaded satellite imagery that showed a very large gyre in the Gulf Stream so we set a course to take advantage of it. By entering the side of the gyre that set to the north we got a nice boost from current before we crossed the main stream itself just two days out of Rhode Island. There were squalls and unsettled seas in the Stream that bounced us around quite a bit and finished off the wind direction indicator (as noted above) but also led to the failure of the main outhaul gearbox. That made the main sail essentially inoperative for us. Halfway through the stream the squalls ended and the seas became smoother. The wind was aft of the beam so the loss of use of the main sail was not consequential.
A day out of Rhode Island we first encountered fog and the wind died completely. We were visited by a big school of playful dolphins that leapt and swam at our bow for almost an hour.
It became clear that we would enter the Narragansett Bay in the dark but also in dense fog. Before departing Sint Maarten, I had picked out a few places to anchor in case of a night time arrival. My first preference was Dutch Harbor, which we knew fairly well, but a Google search had revealed that anchoring was no longer permitted as the mooring field had been expanded. So we made for Bissel Cove, a place we had never visited. We proceed up the West Passage at very slow speed since we could not see more than 50 feet. We relied on radar, AIS, and our digital charts. We could not see the towering Jamestown Bridge until we were less than 100 feet away. With the crew on deck with flashlights looking for moored or anchored boats without lights, we rounded Fox Island and dropped anchor in Bissel Cove at 2 am.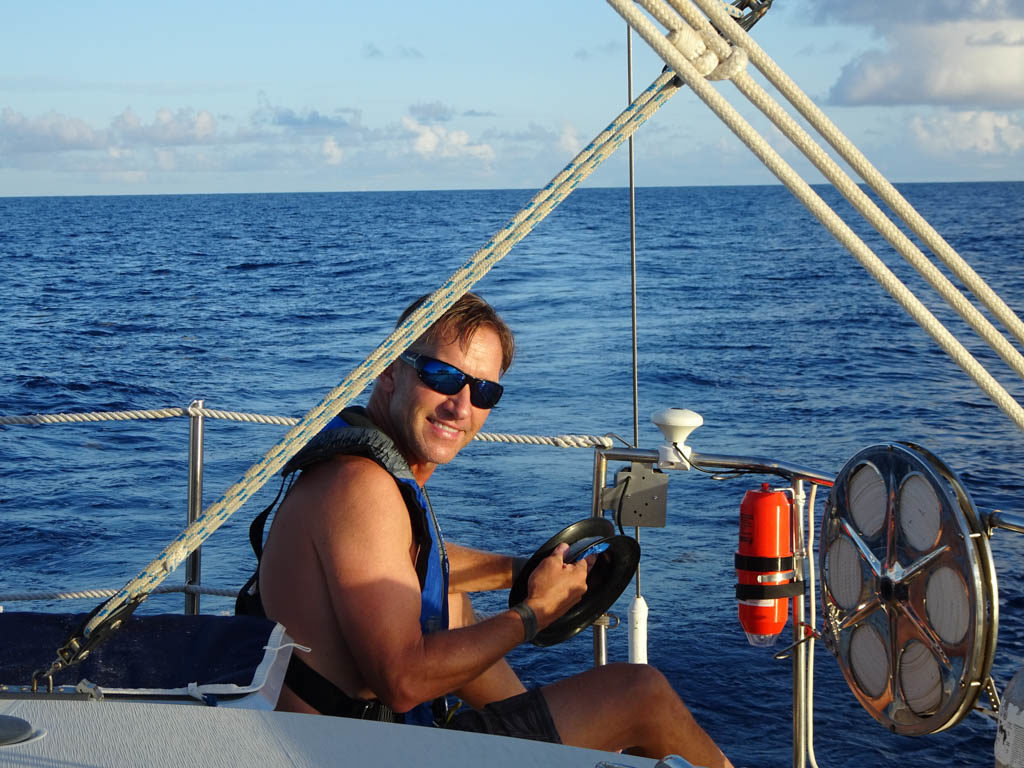 Our volunteer crew, Pat and Leif were great. They were attentive during their watch, and easy to get along with. Leif is a dedicated fisherman. He and I put out lines starting on the first day only to catch Sargasso weed. I gave up after 4 or 5 days of trying but Leif kept putting out fishing lines up until the Gulf Stream. We tried heavier lures, diving lures, and lead sinkers, but still the weed kept fouling our gear. Good thing we had Laura's chicken curry, chili, and lentil soup in the freezer because fish was not on the menu.
Arrival at the Wickford Cove Marina
Ben only stayed with us for a few hours after taking our lines on arrival at the Wickford Cove Marina as he had to go to a conference in Martha's Vineyard. He did leave us with a large box of French pastries. The crew left within a couple hours of arrival. Soon after, our Providence friends Robin and Yoram Ringer, and Wileen Snow came to greet us bearing hugs and gifts. The Ringer's and Snow's share ownership of a Freedom 35 sailboat. Before Ben left, we all went for lunch in a waterfront restaurant in Wickford .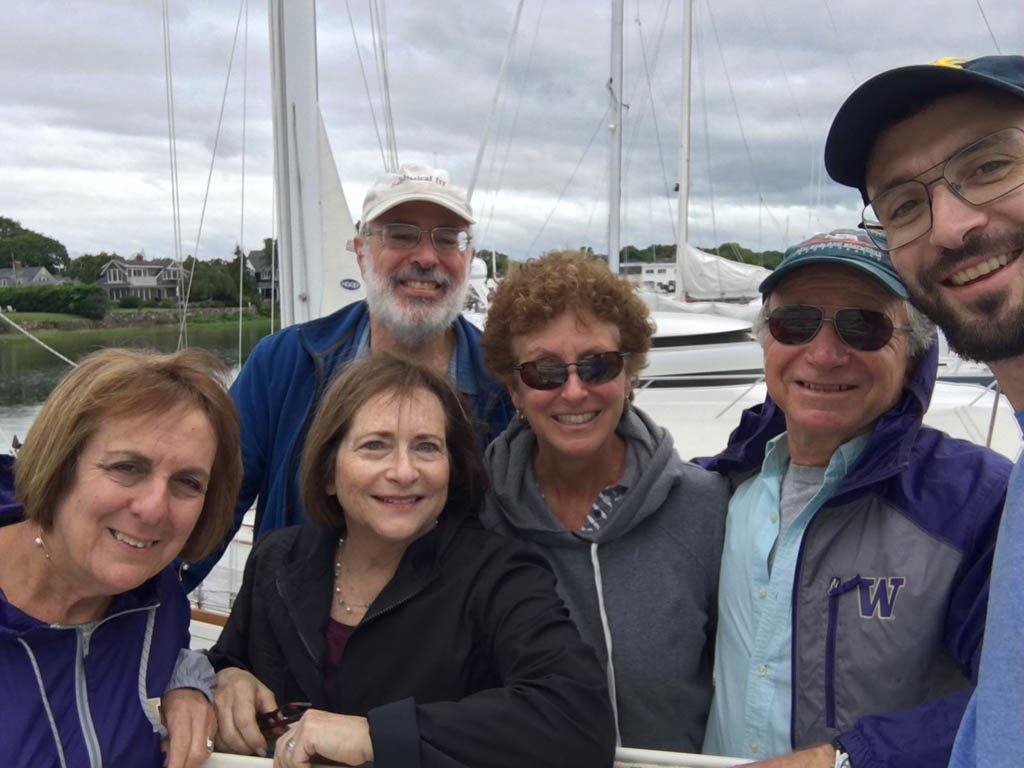 A few days later, Ben finished up his conference and took the ferry from Martha's Vineyard to Quonset, Rhode Island and spent a few days with us. We walked around this charming colonial-era town and sailed to Potters Cove on Prudence Island and spent the night at anchor.
It is now five weeks since we arrived. The town of Wickford and this marina exceed our expectations. All the repair and maintenance issues have been dealt with and tomorrow (July 28) we are sailing to Maine to spent a few weeks sailing in one of our favorite cruising grounds. It is good to be home.
M.