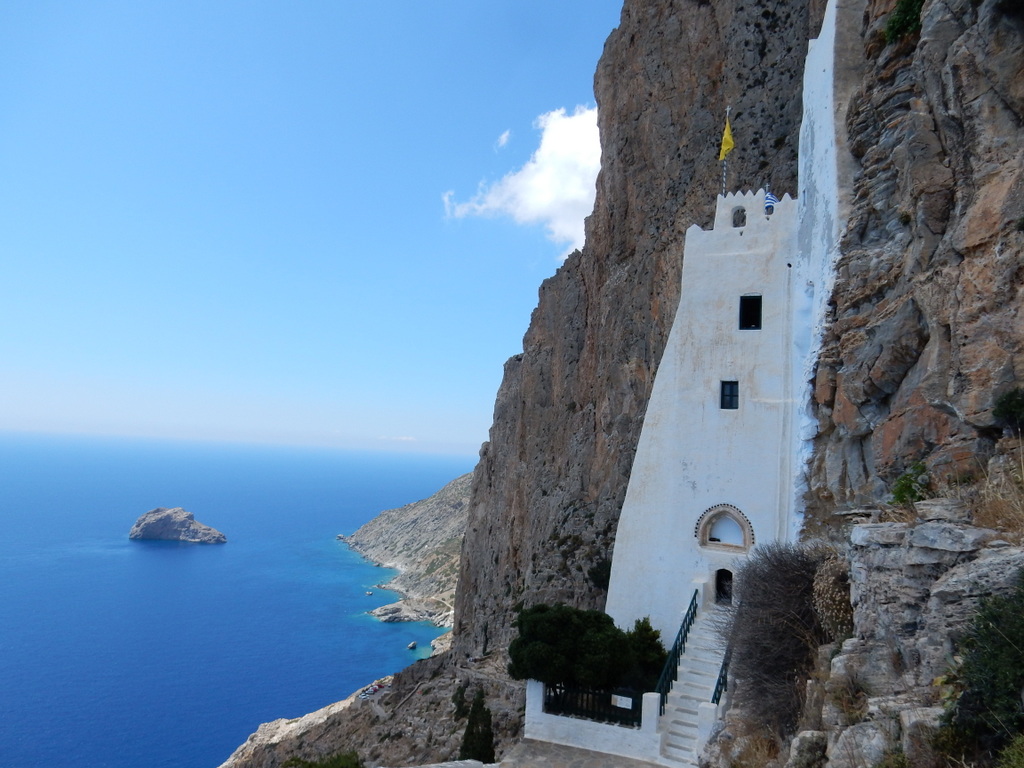 We left Antiparos heading for Denousa Island on June 12 when the wind switched around to the southwest.  As we headed around the southern end of Naxos Island, we saw that it was calm and beautiful in Ormos Kalando, so we pulled in a dropped anchor, figuring that we could get to Denousa the next day.  The next day the wind blew so strongly that we could neither leave the boat nor head out to sea.  After a day, the conditions were good for leaving Kalando but the wind was too much on the nose for sailing to Denousa, we deviated to Kalotyri Bay in Amorgos Island.
We spent 3 very enjoyable days at Amorgos Island.  We wanted to rent a car and see the island but that appeared to be difficult to arrange since there was no town where we anchored, and our mobile phone had had an unfortunate bath in the toilet that rendered it inoperable.  However, I discovered Evdokia Car Rental with a Google search and a couple of emails latter, they delivered a fine little car to the beach (Ayios Pavlos) at Kalotyri Bay for their standard rate of 30 euros a day.
Amorgos island's coastline is almost completely characterized by high, steep cliffs.  There is a spectacular new road (thank you EU) along the west coast of the island that connects Aegialis in the north to the highland Chora and the ferry town of Katapola.  It is only 5 miles as the crow flies to Katapola but more than 20 miles of hairpin turns to drive there.  The highlight was the Monastery of Panagia Hozoviotissa.  One drives to a small parking lot on the east coast below the Chora and hikes up to this very small monastery clinging precariously on the cliff side, built to protect a religious icon, dating from the year 812, from intruders.
From Amorgos we did a 31 hour passage direct to Kastellorizo (Megisti), the easternmost Greek island that lies only 3 miles from our marina at KaÅŸ, Turkey, where we checked out of Greece.  By moving quickly we took advantage of an excellent weather window at the start of a meltemi (period of strong northwesterly winds) plus saved some of our limited European ("Schengen") visa days for further adventures.  We are now back in our berth at the KaÅŸ Marina.
M.
The monastery of Panagia Hozoviotissa, from the trail (looking up)