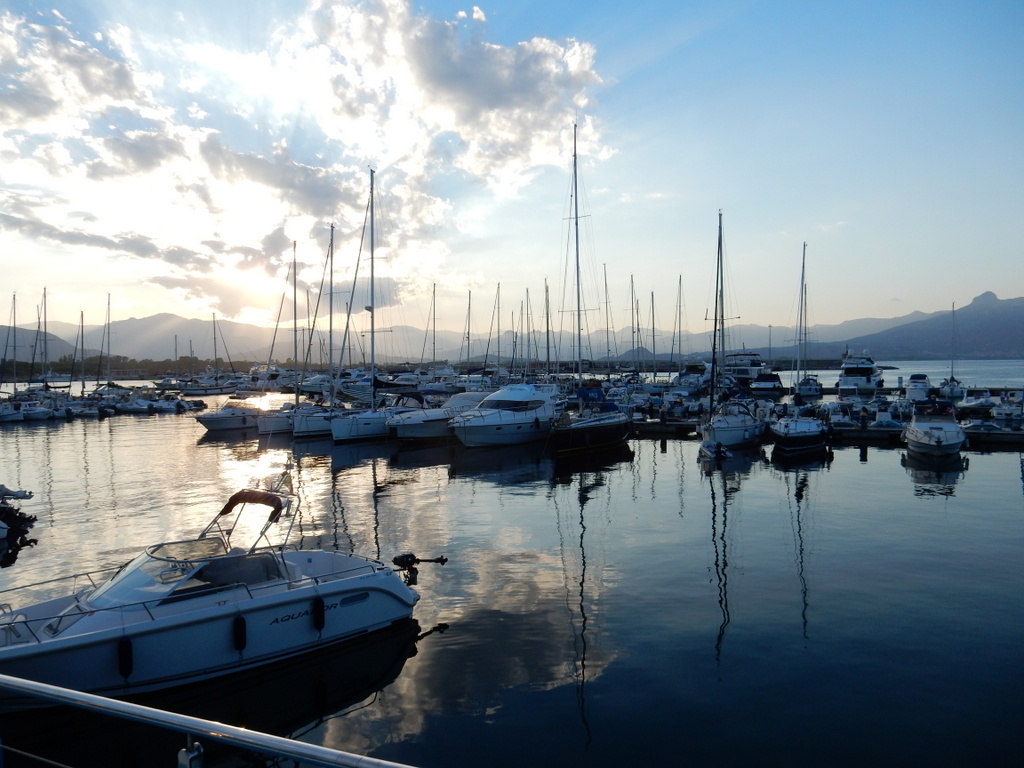 In our previous blog posting, we described the first part of our circumnavigation of the island of Sardinia.  We left off on July 1 when we had just arrived on the west side of Cape Carbonara, 20 nautical miles east-southeast of Calgiari.  We only had only one evening at this anchorage.  The wind shifted to westerlies the next day and we, along with "Vera", moved to Porto Giunco on the east side of the Cape.  After two nights, the wind shifted again and we moved back to the west side of the Cape.  We took the dinghy into the small marina and walked a couple of miles to the town of Villasimius for lunch.  It is an attractive and modern town that attracts tourists probably because of its proximity to the beautiful beaches on both sides of Cape Carbonara.  There is a nice Nonna Isa supermarket and an excellent butcher in town and, although we were still well provisioned after our recent stay in Calgiari, we topped up with fruits, veggies, and meat anyway.
The next day (July 5), we sailed north to the small cove known as Sa Figu on the north side of Cape Ferrato.  When we anchored there was an annoying roll caused by a swell from the east.  We hoped that the swell would diminish after sunset but instead it got worse and the boat rolled from gunnel to gunnel.  It was a very uncomfortable night as we were tossed around in our berths, and we slept very little.  Michael and Britta had been there a few times before and said they had never known it to be that rolly.  The next morning, we left Sa Figu, exhausted, and headed north alone as "Vera" decided not to circumnavigate Sardinia.  Michael and Britta have spent years in these waters and preferred to hang out and relax after all of their concentrated effort in preparing their lives and boat for a decade or more at sea.
The winds were southeast and thus threatened another rolly night at anchor.  Unwilling to risk this, we sailed to the marina at Arbatax.  Arbatax is a small industrial town and the harbor area where the marina is located is dominated by a facility that build derricks for gas wells.  The derrick business brings noise, night lights, and commercial traffic into the port, making it very unappealing.  We knew this before we arrived but we just needed a good night sleep and the price at the marina was less than half that of a marina just 5 miles up the coast.  It turns out that the gas drilling business is way down and the derrick facility was idled.  We moored facing a beautiful range of coastal mountains, not the idled industrial facility, and the marina was friendly, clean, and quiet, and there was no roll.  We liked it so much, we spent 3 days.  We were having issues with our internet provider TIM, and there was a bus from Arbatax to the much larger inland town of Tortoli where there is a TIM agent.  The TIM agent in Tortoli spoke no English and in any case had no access to information on our TIM account, so that was left unresolved, but Tortoli is an interesting town to walk around in and has a nice Conad supermarket.  We found a unisex hairdresser in Arbatax, so we both got our hair cut.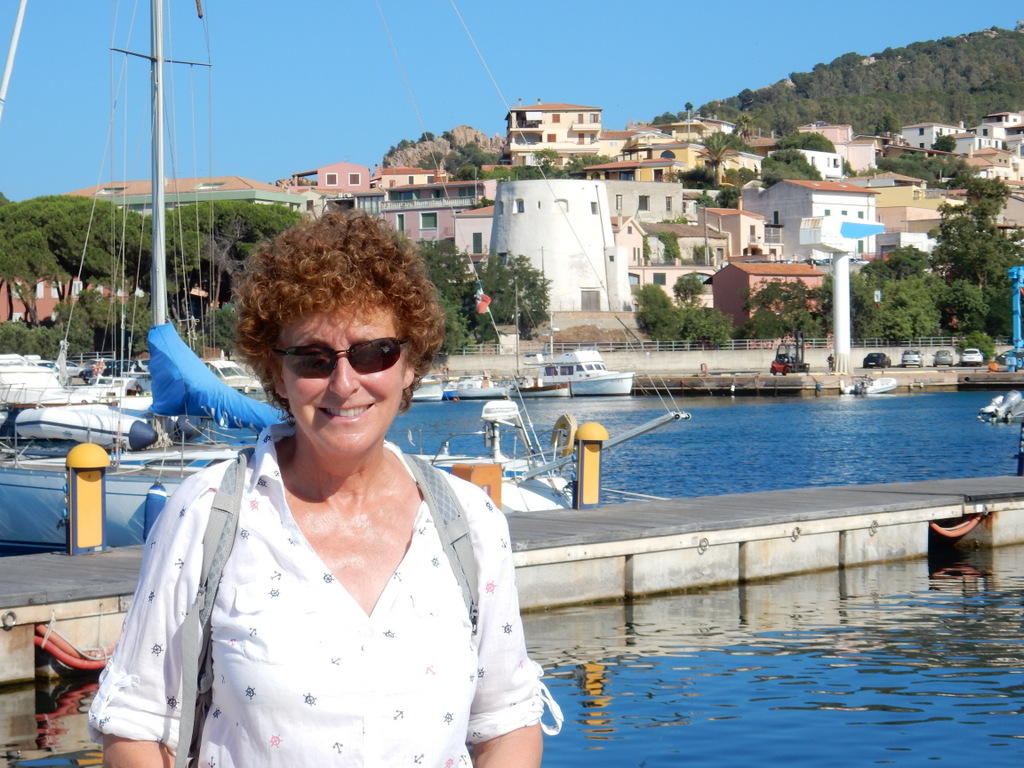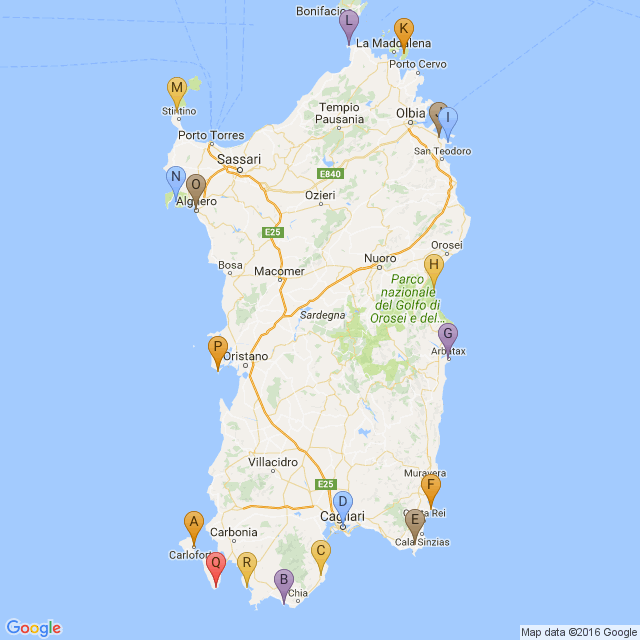 A: Carloforte
B: Capo Malfatano
C: Pula
D: Calgiari
E: Villasimius
F: Capo Ferrato (Sa Figu)
G: Arbatax
H: Cala Luna
I: Porto Brandichi
J: Porto Taverna
K: Isola Caprera
L: Capo Testa
M: La Pelosa
N: Porte Conte
O: Alghero
P: Oristano Bay
Q: Peonia Rosa (Isola Antioco)
R: Porto Pino
On July 9 we sailed to Cala Luna. This is in the middle of a stretch of steep cliffs rising up from the water and very rugged terrain that has prevented the building of roads or settlements.  Cala Luna is a small beach formed by a seasonal stream that has carved a gorge through the cliffs. It is a very busy place with day trippers streaming in all day long on fast motorboats, RIBS and small ferries.   The nice restaurant we had been expecting turned out to be just fried food ordered at a counter.  You can't park your dinghy on the beach near the path to the restaurant during the day, so we had to leave it at the far end of the beach which then involves walking through waist deep water.  We did not come prepared… so ended up eating lunch in soggy shorts.  The hiking trail through the gorge involves walking in soft sand and we did not have the right shoes… also it was too hot.  Altogether, not our favorite place.  We were happy to leave the next day.
From Cala Luna, we did a full day sail north to Port Brandichi, a well protected bay 10 miles south of Olbia and two miles south of the beautiful island of Isola Tavolara, which rises 500 meters straight up from the sea with a top that is covered with clouds most of the day. Â The next day we sailed a few miles north to Porto Taverna and had an even better view of Isola Tavolara.
On July 12 we arrived at Porto Palma on the island of Caprera in the Maddalena Islands National Park.  We arrived just the afternoon before a mistral was predicted.   There were about 17 boats in the bay with us until evening and then they ALL left.  Three small French cruisers (on what looked like instructional boats) came in and anchored for the night.  Winds picked up and stayed at 25-34 knots for 2 full days from the west.  There was very good protection in the bay, but it was still unnerving to have the wind howling for so long.   We had bought a one-week park pass but no one ever came by to check.   We stayed put and on the 2nd day Mark started feeling sick…. ear ache, sinus headache, then toothache, then fever.  He decided to take antibiotics and spent 2 full days really feeling poorly.  Once the worst of the winds passed (on Friday) a lot of boats came into the bay and all stayed overnight.  The wind conditions for Friday were forecast to be very strong from the north, but they were not nearly as strong as predicted.  On Saturday, July 16, Mark felt a lot better and we were very happy to pick up the anchor and leave.  It was not a fun couple of days and we were running out of fresh food.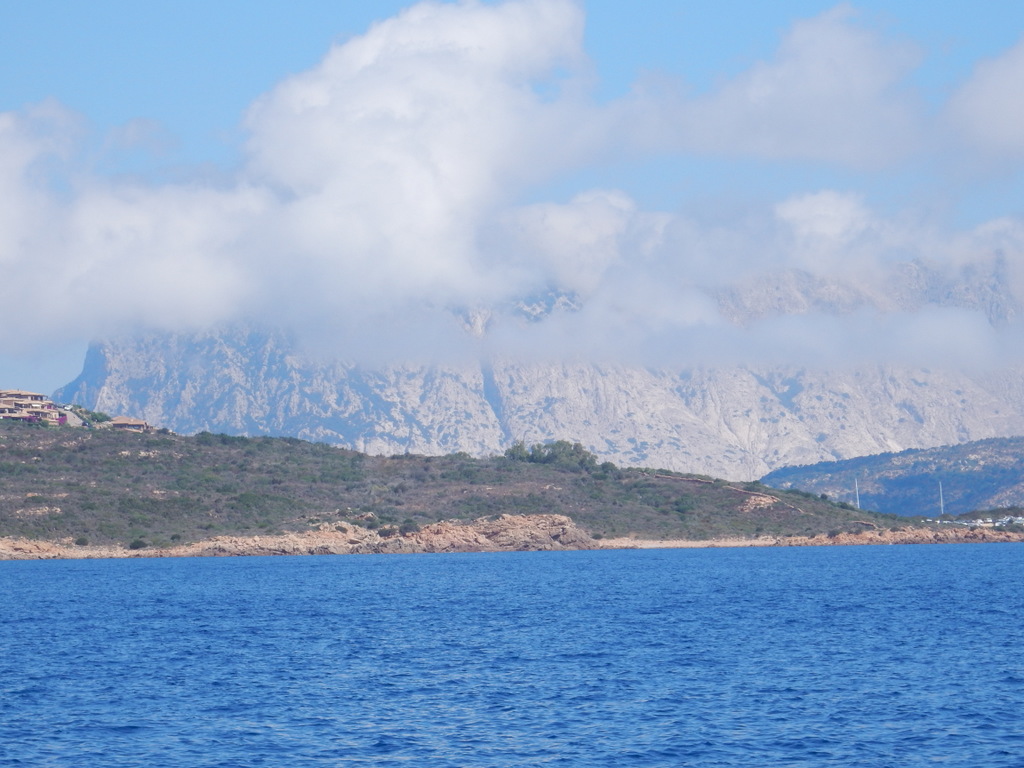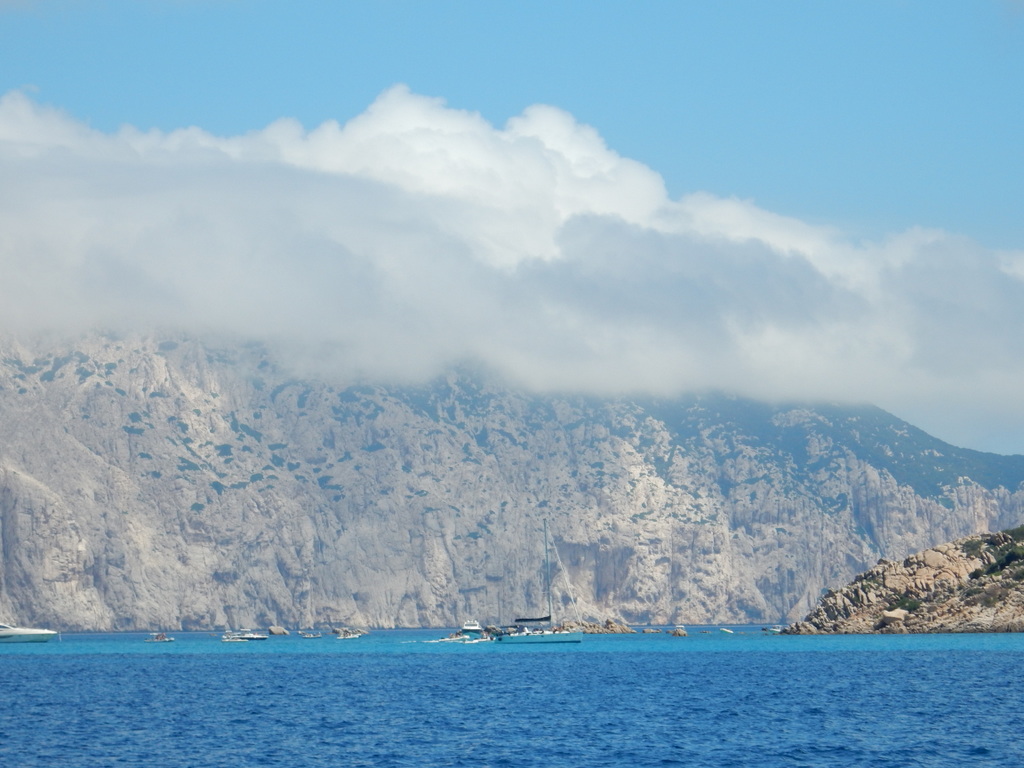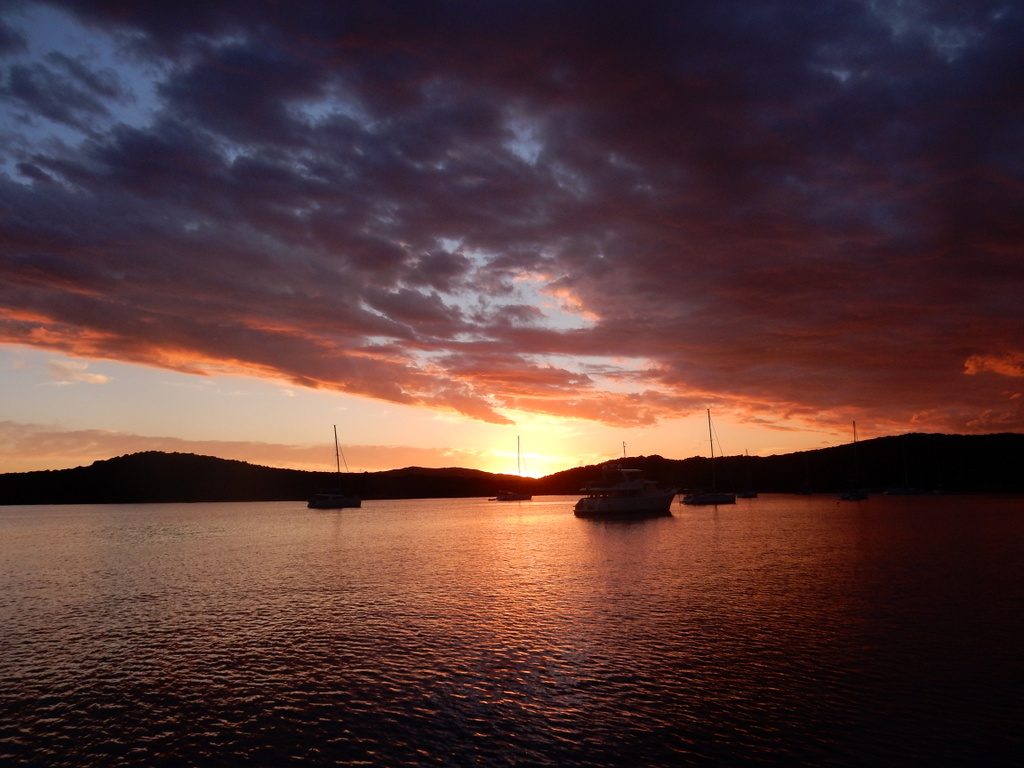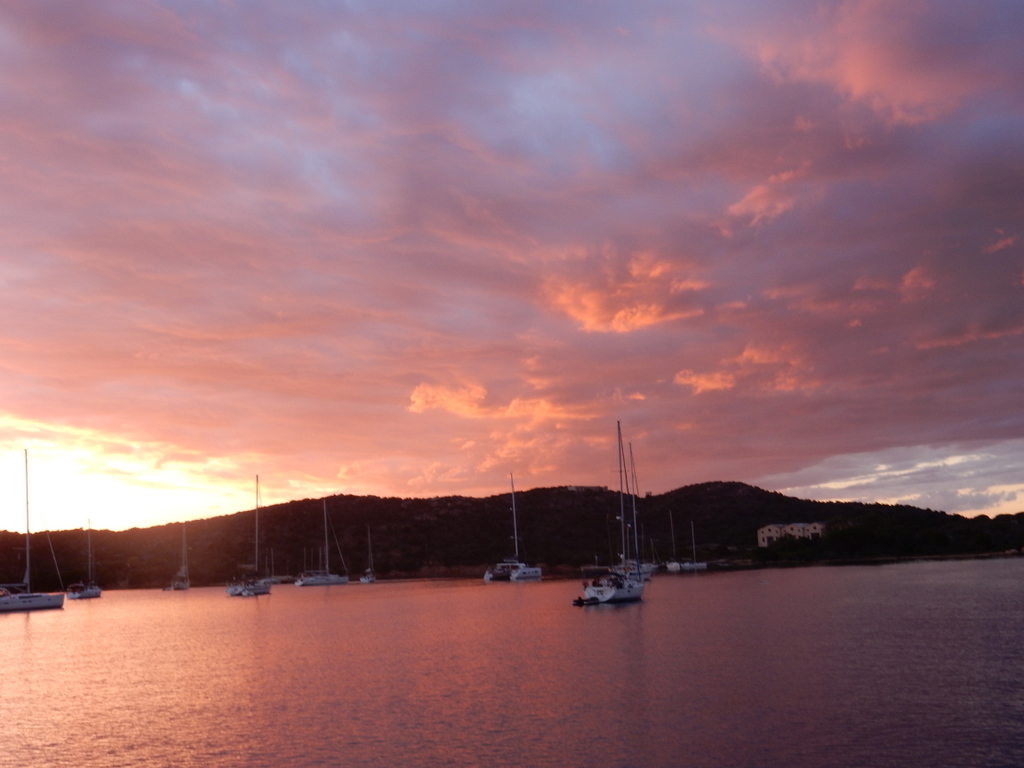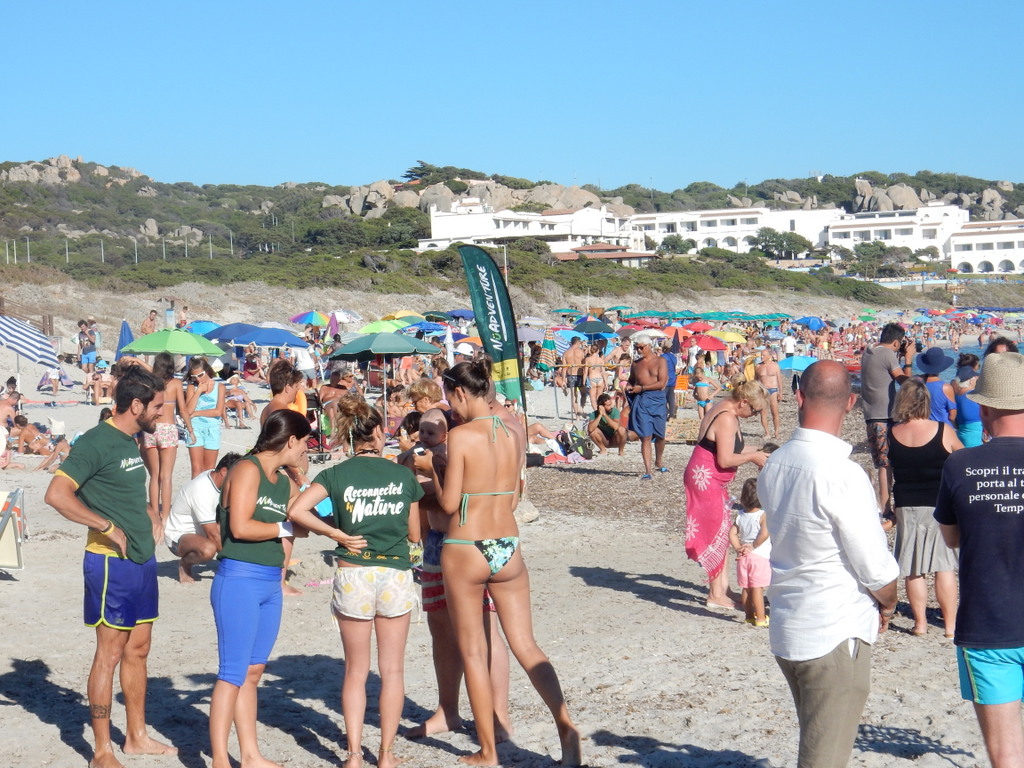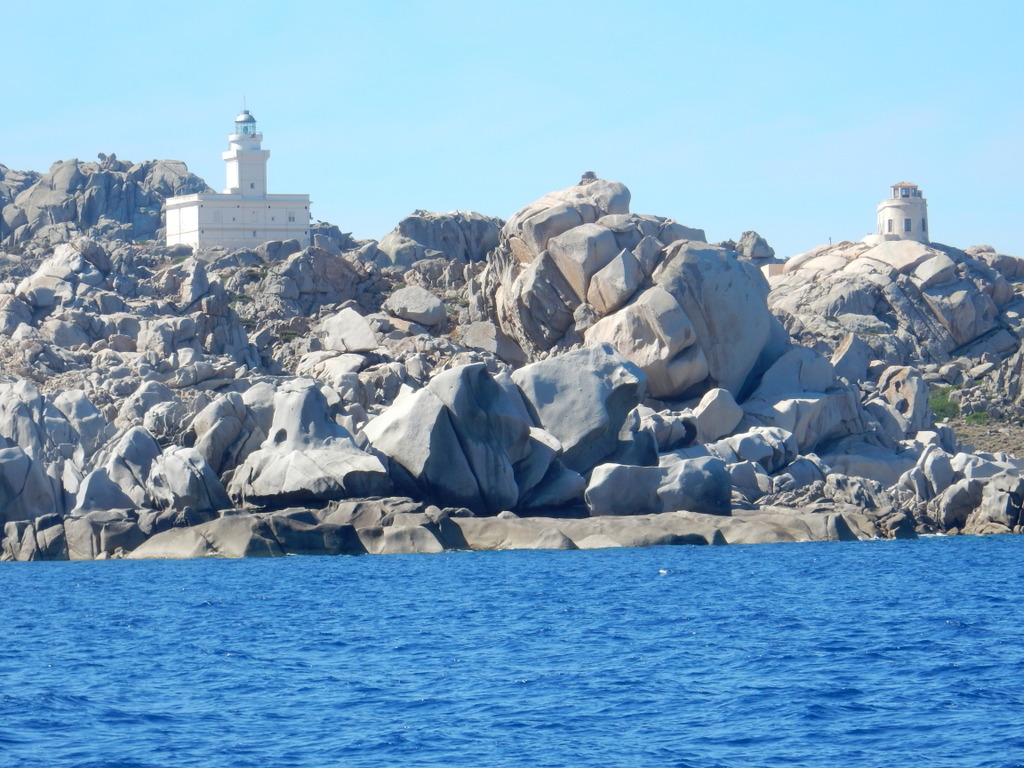 We sailed to Porto Puddu just a few miles away which had a busy but pretty beach and two outdoor music venues that competed for attention at night, making it on the noisy side.  From Port Puddu we sailed to Baie di Reparata adjacent to Cape Testa, which is nearly the most northern point of Sardinia – as far north as Rhode Island.  The bay is lined with beaches that were crowded with vacationers.  We were short on food and there was nothing to buy in Capo Testa, so we took a bus to the cute town of Santa Teresa di Gallura to shop, explore, and eat at a restaurant.
On July 19 we sailed through the Bonifacio Strait that separates Sardinia and Corsica to La Pelosa, located in the smaller strait between Sardinia and Isola Piana at the far northwest of Sardinia. We found unexpectedly beautiful water there– very shallow with a white sand bottom. We so enjoyed sitting on deck and spending hours watching the full moon and twilight, we stayed for a second night.  On July 21 we passed through the Fornelli Strait and started our sail south along the west coast of Sardinia.  The prevailing winds on the west coast of Sardinia are from the northwest and west and the coast is wild with very few protected bays to anchor in or even towns with marinas.  The population of the island is highly skewed to the east coast.  The bay Cala del Bolla (part of Porte Conte) behind Capo Caccia seemed like a promising place to anchor.  The hotel ashore was closed down but there was a beach nearby with a restaurant at which we had a very nice meal the first evening.
Every day we check more than one marine weather forecast for the coming days and one of these forecasts had an odd prediction for the next day at Calla del Bolla – 2 knots of wind with gusts to 30 knots.  We had never seen that before.  We presumed it to be a warning that thunderstorms would be moving through.  We were well anchored and did not believe that the wind and seas associated with thunderstorms of short duration would be a problem.  Lightning strikes are always our biggest concern but there is not much one can do to prevent the damage they might cause.  There was no thunderstorm.  Just as it got dark, the wind went from 2 knots to 30 knots in 30 minutes, switched to the southeast (rather than the predicted southwest), and stayed there.  The southeast winds turned Sabbatical III so that it's stern was just 30 meters from rocks on which a newly energized sea was crashing.  Some boats nearby dragged anchor and left.  One power boat tied up precariously to a navigation buoy in the dark.  It blew hard at varying intensity all night so we stayed on anchor watch most of the night.  On two occasions where it blew hardest, we turned the engine on so that if we dragged we could pop the engine into forward gear and get away before crashing into the rocks behind us.  The anchor held for the night but the wind still blew in the morning and we needed to get away from this unsafe situation.  We moved up very close to Capo Caccia just to get out of the waves so that we could lift our dinghy and outboard engine onto the deck.  We called the marina at Alghero, about 7 miles away, and they had a place for us, so we sailed over in rough seas.
Both the marina and the town were much nicer than we expected.  Alghero was founded by the Phoenicians in the 8th century BC and turned into a fortified port by the Genoese.  In 1353 it was captured by the forces of the Crown of Aragon (Spain) and the local population was expelled, replaced by Catalan colonists. It is the only place in Italy where the Catalan language is an official language and is still spoken, particularly by older people.  The Marina St. Elmo is located just below one of the walls of the fortified city.  One steps off the dock and through St. Elmo's Gate and you are inside.  It is a very interesting place filled with tourists (mostly French) and many upscale shops and restaurants.  It is a wonderful town for walking and exploring.  As it was, we had to spend a second night in the marina as the weather forecast for the next day (Sunday, July 24) was abysmal.  A succession of thunderstorms rolled through during the morning hours bringing many lightning strikes, torrential rain (a good thing for a salty boat), and winds to 44 knots.  We were glad to be in the marina.
We left Alghero on July 25 and headed south.  After a night behind Capo San Marco in the Golfo di Oristano, we finally reunited with "Vera" at the southeast corner of Isola Antioco, 15 miles past Carloforte.  After a night there, we moved over to Porto Pino behind Cape Ta Menga.  Porto Pino was one of our favorite anchorages of the trip.  Beautiful water, a 2 miles long beach just made for walking, and an excellent restaurant.  As for most Sardinia anchorages, it is not well protected so if the wind came out of the west or south one would need to leave. We had fine weather while we were there.  On July 29th we separated from Vera again and motored north up the San Pietro Channel and finally re-entered Marine Sifredi, our home base in Carloforte after a trip of more than 40 days and 500 sailing miles. After seeing so much of Sardinia, Carloforte is our favorite place.
M. and L.