Yesterday, we ventured into Chinatown, Little India, and then to the Jewish Cemetery.  The cemetery is on Zainal Abidin Road, but was called Jahudi Road in the past.  The Indian-Malaysian caretaker lives in the cemetery with his family and was happy to open the gates and show us around.
There is only one Jewish-Malaysian passport holder left — Mr. Mordecai's niece, who lives in Sydney, Australia.
One grave in the cemetery is kept up by the British government.  It is that of Eliaho Hayeem Victor Cohen, a Lieutenant  in the British Indian Army killed in an accident on 10 October 1941.
The Penang Jewish Community reached its peak numbers around 1900.  Today only some Russian refugees are said to remain.
We went to the Hameediya Indian-Malay restaurant for lunch.  Physically, it is not much to look at, but the food is great and cheap.  We had some rendang beef, Laura's favorite dish, as well as curry, martabah, and naan.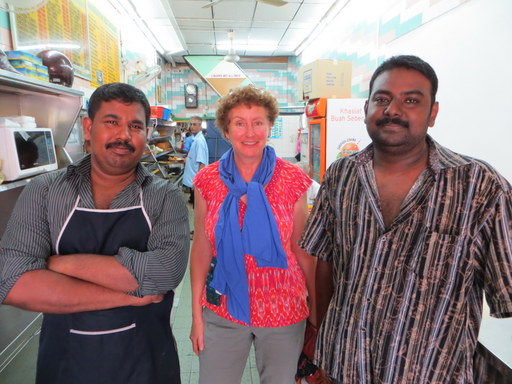 Tomorrow we will leave the Straits Quay Marina heading for the islands of Langkawi.  We will anchor out in southern Langkawi the first night, and then make our way to the Rebak Marina on Rebak Island the next day.
M.