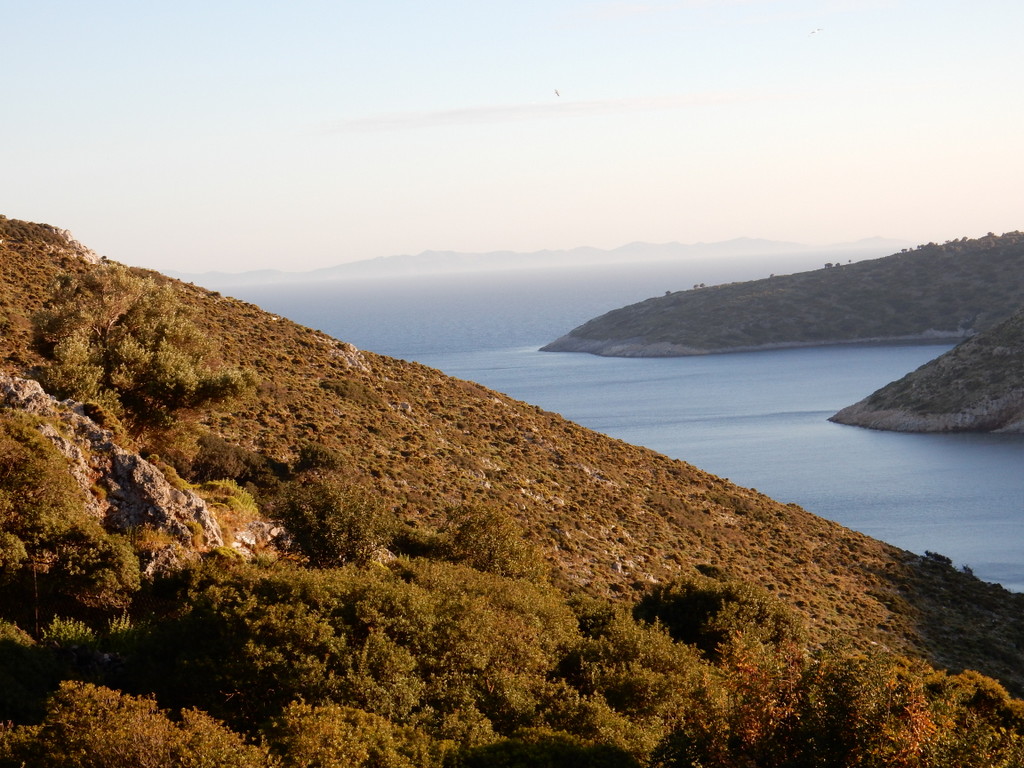 We are way behind on our blog, so I will go through the highlights quickly and try to catch up.  We left Keçi Bükü (Turkey) on April 28 heading for Agathonisi Island (Greece) in strong southerlies.  That night, we stopped in Mersincik bay, at the far end of the long peninsula on which Datca is located.  Just as we were entering the bay the wind increased to 35 knots with higher gusts and we could see whitecaps even inside the bay.  But it was late and there seemed to be no alternatives nearby so we entered and anchored with some difficulty.  In the middle of the night the wind switched to east and I sat anchor watch for a couple of hours.  The wind moderated by morning and we headed for Agathonisi, just a few hours away. We have already written about the Syrian refugees arriving in Agathonisi.   As the temperatures were cool, we did a lot of walking in the hills, and enjoyed a few excellent meals at George's Taverna.
We left Agathonisi on May 3 intending to sail to the marina at KuÅŸadası to officially clear out of Turkey, but observing an island 10 miles to the west, we changed our minds.  The island is Arki (Arkoi) and we spent a delightful two days there.  We picked up a mooring in narrow Port Stretto where we had less than a foot of water under our keel.  Next to us on the only other usable mooring was the British boat "Wight Egret" with David and Beverly aboard, who quickly became our friends.  The mooring belonged to the Apolafsi Restaurant, where we dined twice.  We walked into town (Port Augusta) every day to drink coffee and use the internet.
On May 5, we sailed from Arki Island to the Setur Marina in KuÅŸadası, Turkey.  In the windy strait between Samos Island and Turkey (Mycale Strait), the glass cover on the vanity smashed and bits of glass fell into the toilet and stuck in the toilet pump.  That, along with an erratic engine thermostat, gave me some more things to do in the marina.  Two days in KuÅŸadası were enough to provision the boat, fix the toilet and thermostat, and get officially cleared out of Turkey.  On May 7, we sailed to Pythagorion (named after their most famous son, Pythagoras) on the south coast of Samos Island in order to officially clear into Greece.  Even though the Samos Marina knew we were coming, there was much confusion when we arrived.  Inside the tight confines of the marina, with 25 knots of wind, the lone "marinaro" ("boat boy") changed his mind twice on where we should tie up.  Laura was running over the deck moving fenders and lines while I struggled to control the boat until we tied side-to on a concrete dock.   The next day we rented a car and drove to Vathi in order to get SIMs for our mobile phone, USB modem, and iPad, and then drove around the island.
We sailed from Pythagorion, Samos to Lipso (Lipsi) Island on May 11, anchoring off of the beach at Katsidia at the sparsely populated southern end of the island.  We had been told that Delilah's Taverna on the beach was excellent.  Unfortunately, it was closed for renovation.  The day after we arrived, we walked 35 minutes to Lipsi town up and down a steep road and had lunch at the Kalypso Restaurant.  We dawdled over ice coffee waiting to see if it would rain but finally decided it would not and walked on the town quay to see the sail boats tied up there.  Just as it started to pour, we came about "Wight Egret" whom we met in Arki the week before.  David and Beverly invited us aboard to get shelter from the rain which soon turned into successive waves of thunderstorms accompanied by strong winds.  After two hours on "Wight Egret" there was no end to the rain in sight and it was getting dark.  We found the island's only taxi driver and he took us to Katsadia with our iPads protected by an umbrella borrowed from "Wight Egret".
On May 14 we sailed from Lipsi Island to Blefouti (Plakouti) in northern Leros Island in order to get protection from the approaching southerlies.  On the way, we anchored off of uninhabited Arkhangelos Island for a swim.  On the sail over, we caught up with "Wight Egret" and we anchored together in a small cove at the western end of the island.  Everyone swam but me — the water is still too cold for my taste, although the day was delightfully warm.  Laura could not speak for the first minute after she got in, but then got used to the temperature.  "Wight Egret" had lunch on Sabbatical III and then headed for Lakki, while we went on to Blefouti.  We had a nice walk around the bay.  Unfortunately, the one taverna at Blefouti had not opened for the season yet and we were left to have scrambled eggs for supper.  The next morning (yesterday, May 15), we left Blefouti at 6 am to sail across to the western side of the Aegean, ending up in Rinia Island (just west of Mykonos) after a 13 hour sail in a decent southerly with a tiring steep chop.  Today we are just resting.
M.